Our Pack
Our team is made up of vet techs, vet assistants, dog daycare specialists, and dog-trained professionals in Tucson, AZ. Our dog sitters are 18+ and go through a series of steps to ensure they are qualified to work with your pets including basic dog care protocol & procedures and background checks.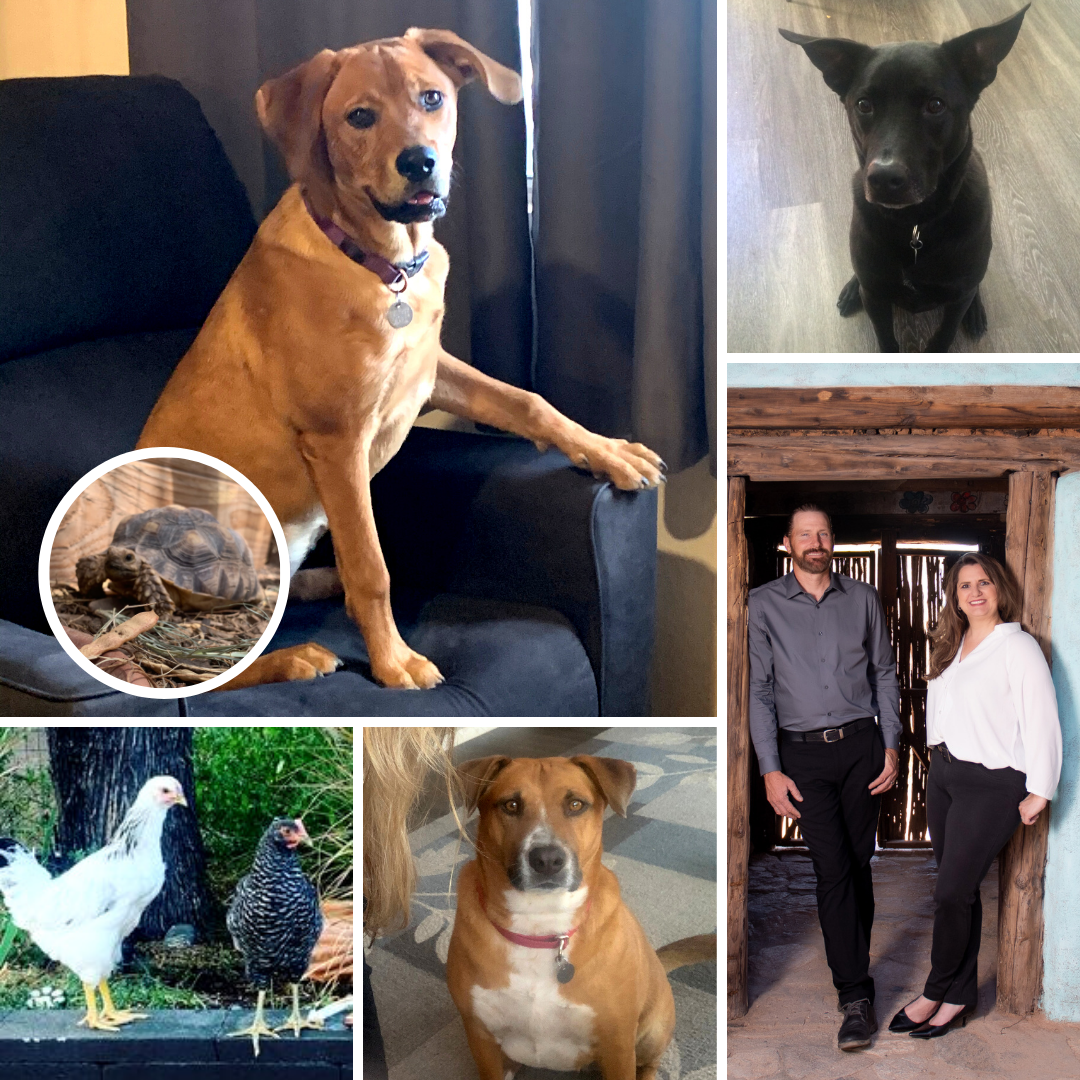 Frankie (& Robert), Founder & Chief Canine Officer
With experience running multiple successful businesses, many hours of experience training and being trained by dogs, as well as a long history of being animal lovers, the team decided it was time to pursue a shared dream to create a sanctuary for dogs and solve a recurring problem of never having someone experienced available to watch their pack when they wanted to take a vacation. Working For Wags is the first step toward that goal. If you are interested in learning more, please visit dogsoftucson.com We hope you will stick around and watch how the dream grows. 🐾
Our pack consists of Max, Maddie, and Macy, a tortoise named Micheal, and three chickens; Ethan, Betty, and Angel.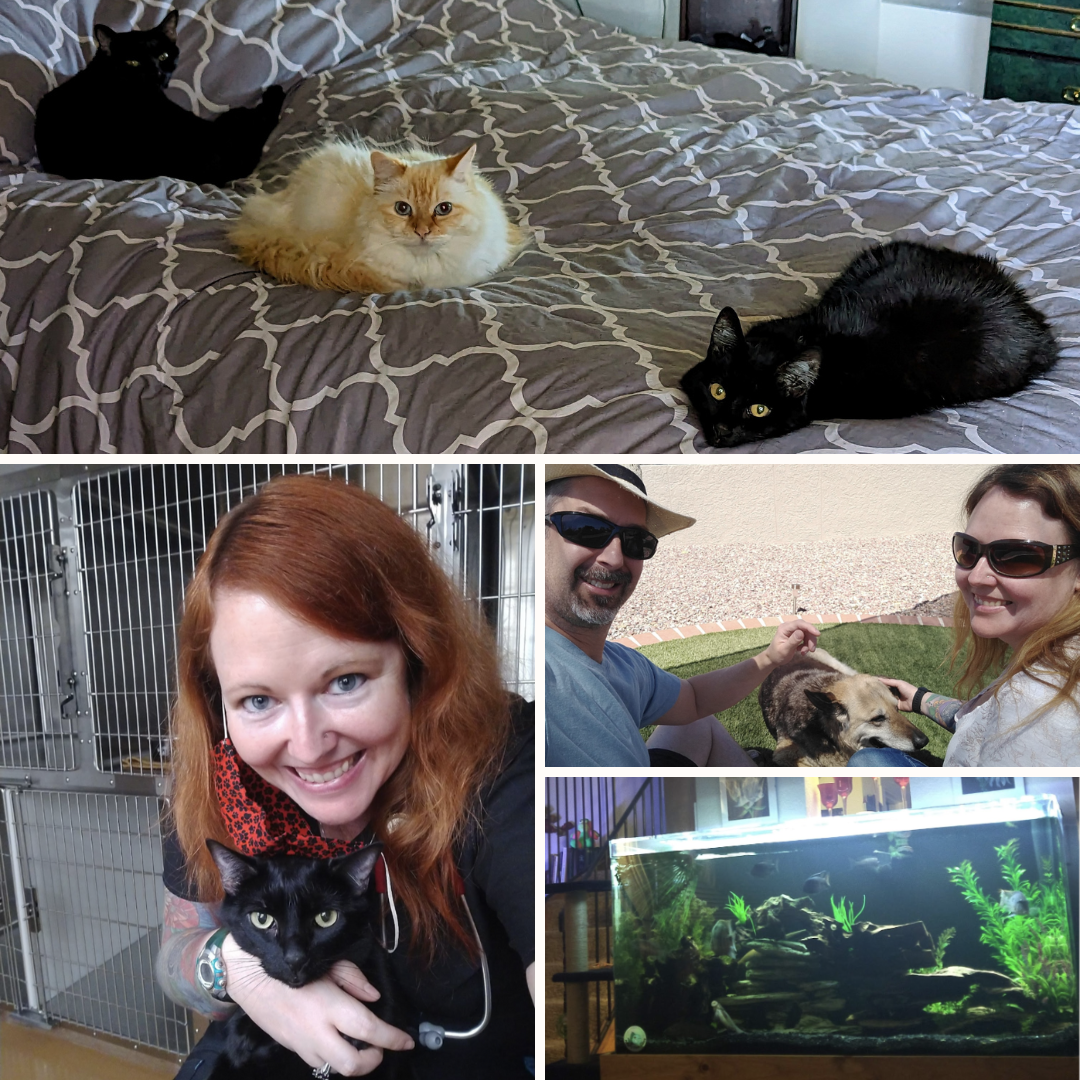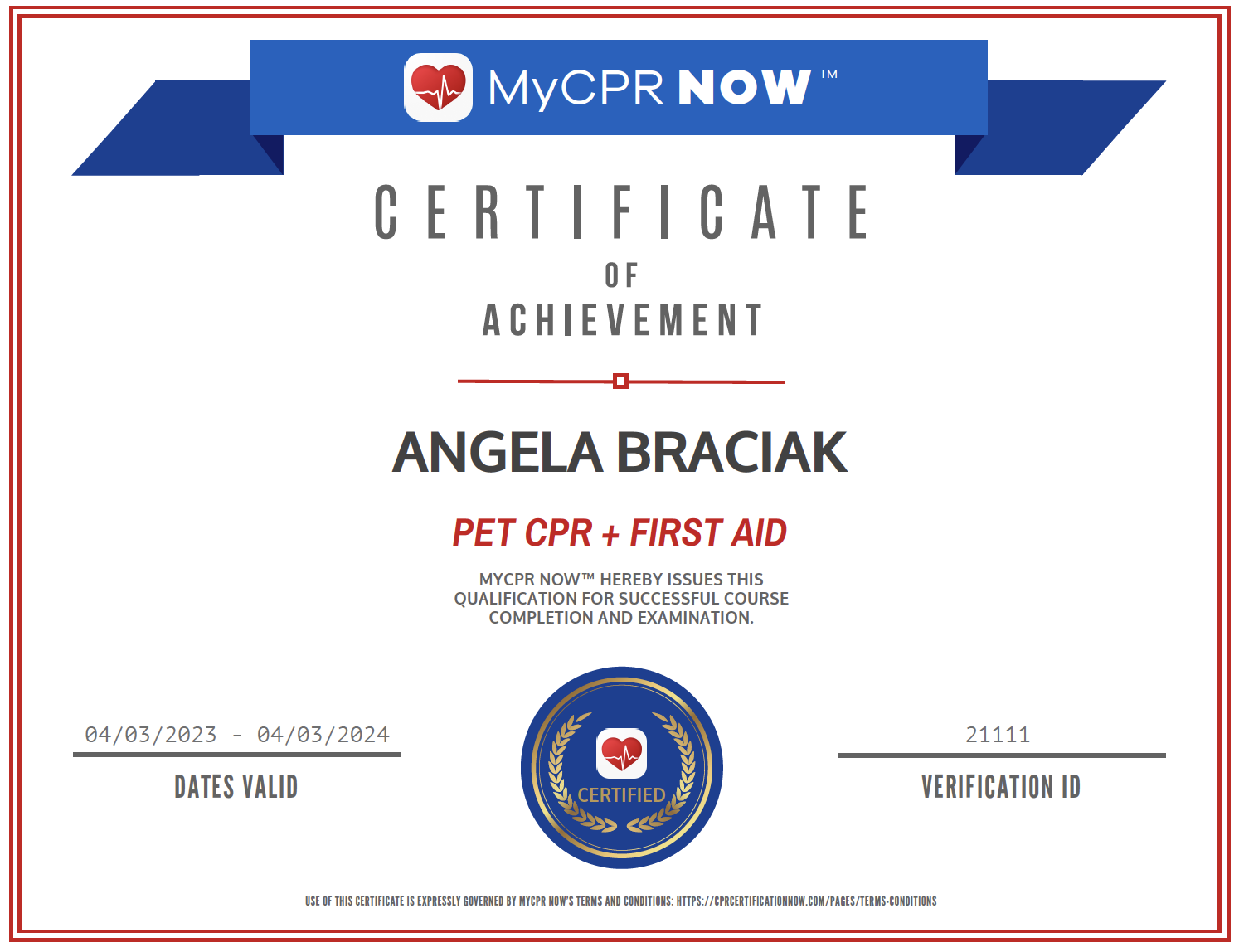 Angela, Sitter
Hello! I'm Angela. I grew up with dogs, cats, and fish all my life. I have 3 cats and each one is completely different from the others but in the end, all know when "Mom and Dad" need a cuddle cause we had a long day. I have 6 fish tanks so I can offer experienced care for your fish babies as well. I even had an iguana and a ferret.
My passion for animals took me to Vet Tech School in 2006 where I was able to help hands-on with lots of animals and give them the care they deserve and educate owners for their furbabies. I've been petsitting since 2006 including overnight care, medications, and special needs animals, and love my longtime clients and their pets.
In my spare time, my husband and I love to travel so we understand the need for good pet care.  I'd love to meet you and give your furbabies the comfort and care of being safe at home while you are away. 🐾
Aurelia, Sitter
Hello, my name is Aurelia. I moved to the United States from France in 2013. Growing up, I was always surrounded by animals, which has been reflected in my work and volunteer experiences at veterinary clinics and rescues.
I recently graduated with a BS in Animal Sciences from the University of Florida, where I also worked in equine, small animal, and mixed animal veterinary clinics. No matter the type of animal, it's always such an amazing feeling to be able to bond with them! At home, I have two cats of my own: a cuddly boy named Stormy and a little growing Tornado named Hazel. Having experience with cats, dogs, goats, donkeys, pigs, cows, and horses, I look forward to getting to know your furry (and maybe scaly) family members!
Brittney, Sitter
Hello, my name is Brittney! I am so excited to meet and care for your furry friend! I have always been an animal lover from the start. When I first started high school I volunteered at my local animal shelter. I volunteered for the shelter for 2 years, and with that, I worked very closely with the dogs that they had. I walked them every day, fed them, played with them, and cleaned up after them. After those 2 years, I just focused on caring for my own dog and focused on finishing high school. I would still dog sit for friends and family whenever they needed it. Right now, I am currently enrolled at the University of Arizona online and working towards getting my bachelor's degree in art and design. I have a couple of rascal pets of my own who I love very much and I am looking forward to loving your fur babies as well!
Justeen, Sitter
Hello, my name is Justeen! As someone native to Tucson, Arizona I love the desert landscape and always have growing up. My love for the outdoors extends over to my love for our furry friends. I've always had a passion for animals throughout my life. Growing up I had pets, ranging all the way from dogs to lizards, and this desire to help animals has only grown stronger throughout the years. As I continue to learn and understand different animals my love for this field of work grows even deeper. I've been able to gain experience in pet care by working with animal shelters, as well as my own pets, and the pets of family and friends. I am a dog mom and have been for three years now to the sweetest and goofiest beagle ever. I can't wait to meet and care for your sweet and goofy pet as well! 🐾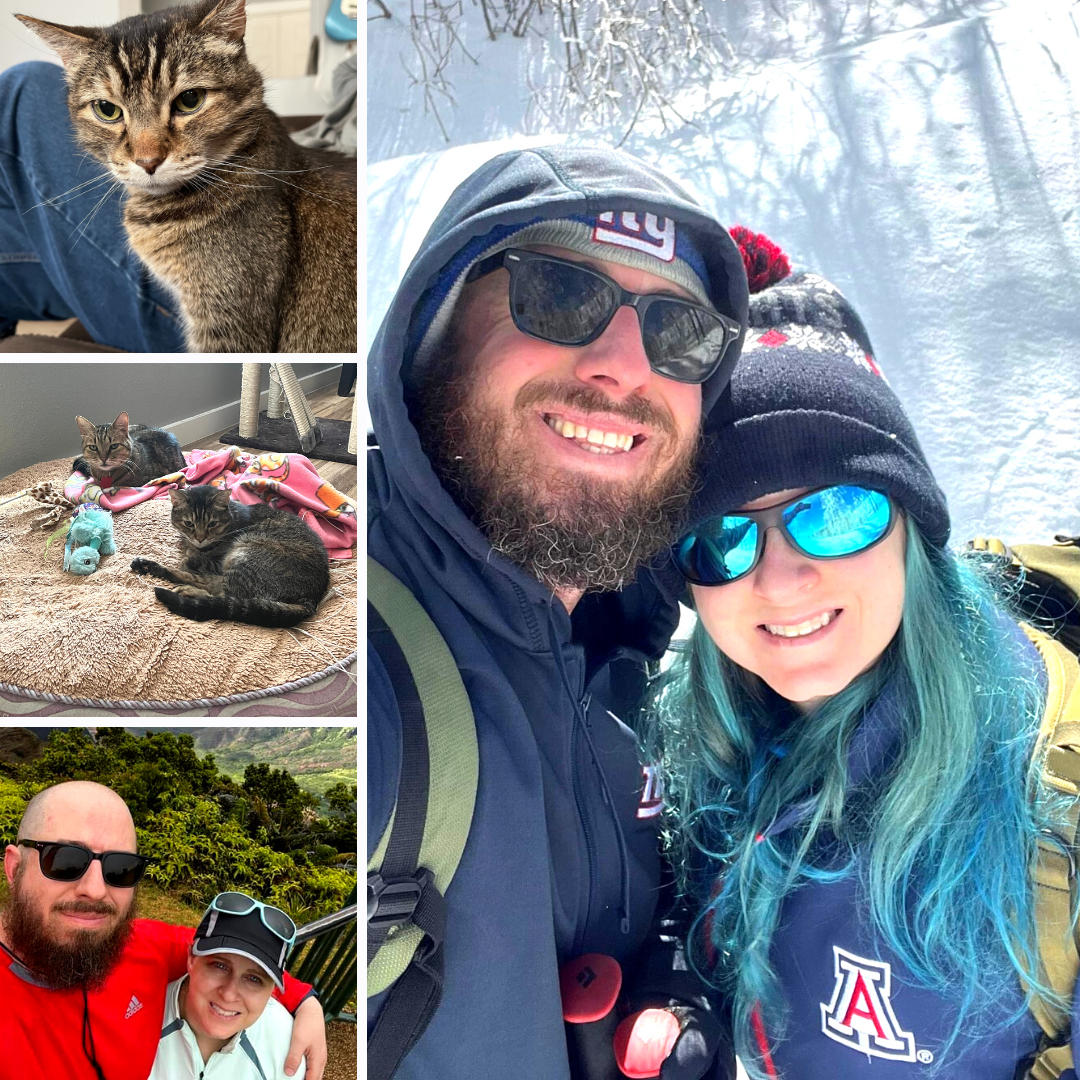 Kianna, Sitter
Hello, my name is Katelyn. Throughout my life, I have been a huge animal lover. When I was little our family got our first of many family dogs and my grandma took me to go trail riding. Those experiences completely changed my life since my love of animals really started and grew from those events. When I was in my first two years in high school was I involved in the National FFA organization and I showed market steers. Through that opportunity, I gained a love for veterinary medicine which caused me to go into the Veterinary Science Program at Pima JTED. I am currently in my second year in the program and have gained my Pet CPR and First Aid Certification as well as my Fear-Free Animal Handling Certification. In this program, I am also working toward my Veterinary Assistant License and NAVTA certification. I currently have two dogs named Saddie and Stella. Stella is a 90-pound Chocolate Labrador mix and Saddie is a 55-pound Golden Retriever Australian Shepherd mix. With the experience I have listed above and others in my life, I am experienced in caring for dogs, cats, and various species of livestock like horses, cattle, sheep, goats, and pigs.
Maintaining a schedule and keeping animals in similar surroundings and keeping them on a schedule when pet parents are gone can help animals in feeling less stressed and help them adjust to having their owners away. I also believe that communication is key and as a result, will keep up with updates and photos to pet owners which can also help you as an owner feel more comfortable. I am excited to meet you and your pet as well as take care of them while you are elsewhere.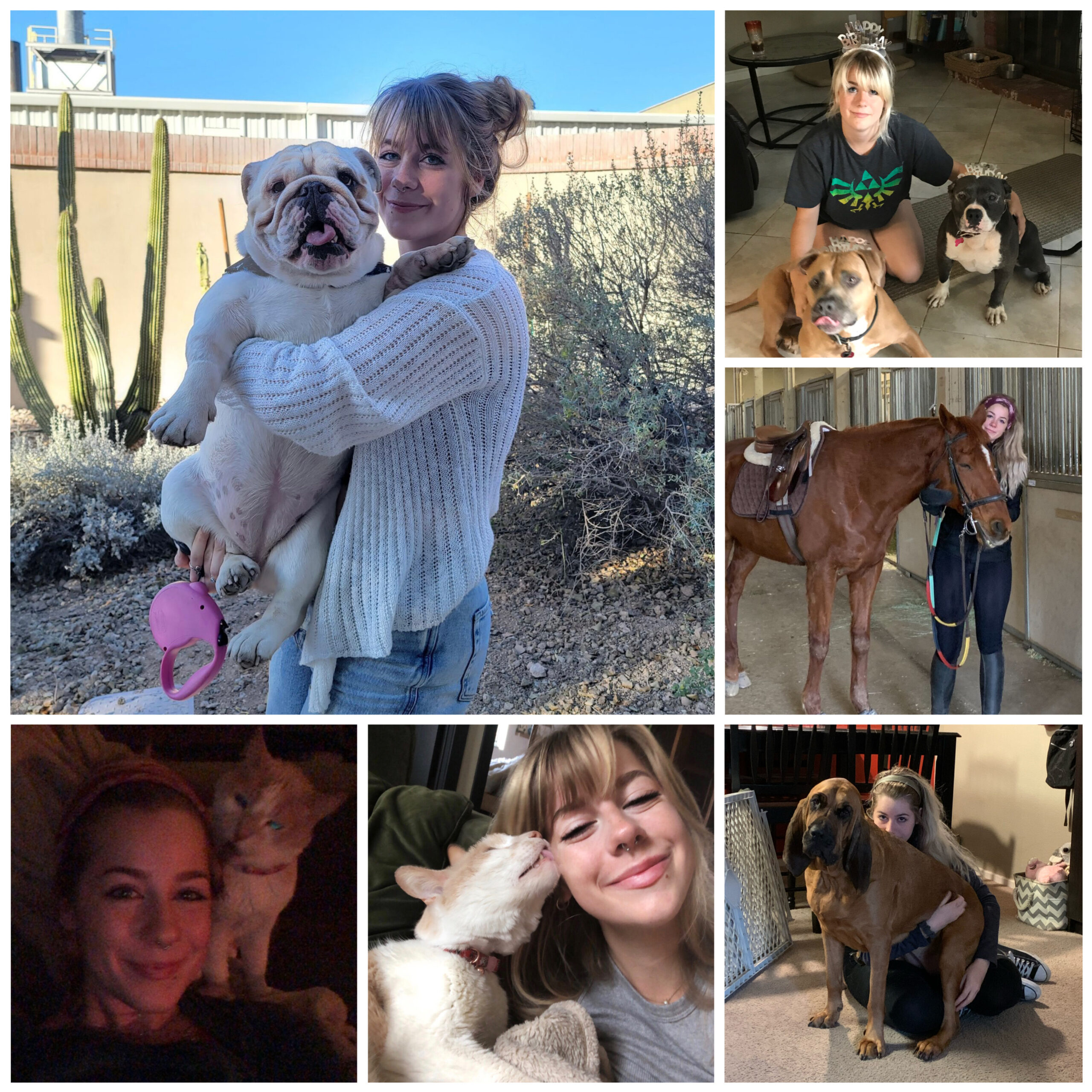 Payton, Sitter
Hello! Pleased to meet you, my name is Payton. I am an Engineering Student at the University of Arizona and a long-time lover of animals. I have 14 years of equine experience teaching lessons in both Western and English disciplines along with experience in maintaining and caring for horses of a variety of breeds. Growing up, I was no stranger to pets personally owning multiple reptiles from tortoises to leopard geckos all the way to fuzzy rats. I am a large dog breed lover, I am especially a big fan of my beloved "mini horse" Stella, my 6-year-old Bloodhound. I have worked closely with pitbull rescues in the past and am comfortable with stronger breeds. I also have experience with both large and small fish tanks and am extremely comfortable with live feedings if necessary for care. I've had the opportunity to work with a vast variety of pet breeds and I treat each animal I encounter as if it were my own. Your pet is more than a pet, they are family. I look forward to meeting, caring for, and loving your furry friends while you're away.
Taylor, Sitter
Hi! My names Tyler, I'm currently in my second year of college studying to be a Vet Technician. I've been around all types of animals my whole life and I am so excited too meet and care for your pets. I currently have three cats, Jolyne, Bullet, and Sabrina, and a German Shepherd named Sienna! I am committed to providing the highest level of care for your furry friends. From feeding and walking to playtime and cuddles, I will ensure your pets receive the attention and affection they deserve while you are away. I am confident in my ability to provide a safe and comfortable environment for your beloved pet, and I look forward to the opportunity to work with you and form strong bonds with your pets!
Tiffany, Sitter
Hello Pet Owner! I am a trustworthy and meticulous pet sitter with expertise in small to medium sized animals including senior pets and those that have a disability or are ill. I have been a compassionate caregiver for cats for over 20 years and have seven years experience sitting for dogs and puppies. I would love to provide the same assistance and care to your dog or cat. Each pet is unique and because I do not work full time anywhere else I can devote my time to each dog or cat and learn what he or she loves. I have lived in California and Washington and I have a degree in Business Administration and Nursing Transfer. I tend to be quiet and I love to read mysteries! I love animals and my goal is always to help others (including animals) to be at their best. They are family.